April started off really well considering it marked the start of my Easter holidays. I was off school for a whole week and a half, yay! Although I had to study quite a lot, I did get to spend 4 days fully off all work at my holiday house. I spent lots of time with my family and friends, ate lots of chocolate and even got to spend everyday there outdoors as the weather was so nice!
I played golf everyday, entering a competition on the Monday and another one on the Tuesday. I actually ended up winning the Tuesday competition with a score of nett. 68, which cut my handicap to 30! I was really happy, especially considering the fact it was only my second competition of the season. As well as that, it was on my 2015 Bucket List to get my handicap cut to 30, so mission accomplished! I think I might need to make my goal 24 or something for the summer though, considering I'll be out playing most days!
On Wednesday 8th April, I went with one of my friends and her friend, whom I'd only met once before, to see Olly Murs in the Odyssey Arena. I had such a great night! He performed so well and was so good at interacting with the crowd. The show was energetic and upbeat right from the start, instantly putting everyone in such a dancey mood! He slowed down a bit in the middle singing Dear Darlin' and Let Me In, which were two beautiful performances. They were so stripped back and showed off the real raw talent he has. For 'Up' which he sings with Demi Lovato on the album, he brought out one of his support acts, Ella Eyre. She has such an incredible and powerful voice which sounded so good alongside Olly's. Overall it was just such an amazing night. Olly seems like such a lovely, genuine and down-to-earth guy and if you ever get the opportunity to go see him, take it - he's a brilliant performer!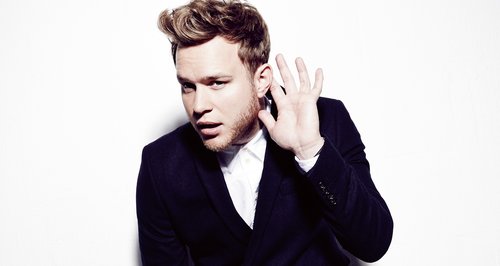 (Side note: I would post one of my own pictures from the concert but they all came out funny due to the lights. Olly just looks like a plain white figure in them all, haha!)
Not long after that (12 days to be exact!), I was back at the Odyssey. This time I was seeing...MY FAVOURITE BAND IN THE WHOLE WORLD - THE VAMPS!!! After 186 days of impatiently waiting I
finally
got to see them and it was honestly one of the best nights of my life. They put on such an amazing, energetic show, getting the audience so involved and even going as far as getting a fan up on stage with them! My friend and I were in row 12 and they were such amazing seats! Because the stage was shaped like a 'D', when they came out to the curve bit they actually felt so close to us! When they first ran out on stage and started singing 'Wild Heart' I had one of those pinch-me moments. I'd heard and watched so many of their live performances on YouTube and I was like "Wow.
Wait. I'm
actually here and
they're
actually here
.
" It was such a surreal feeling!
I loved the fact that after singing a few songs together as a band, there was a part of the show where each of the 4 members got a solo bit to themselves. Tristan, the drummer, was first with an
incredible
drum solo, then came James, the lead guitarist, singing 'Move My Way', which was a song he wrote when he was 15. It must be so special for him to see how far he's come since then.When he originally wrote it I'm sure he dreamed of performing it in front of thousands of people - and now it's a reality! Then it was Connor, the bassist. He sang an amazing version of Sum 41's 'In Too Deep' with Brad, the lead singer, accompanying him on the drums. I love that song and I think it suited his voice so well! Brad was the last of the solos. He sang a beautiful version of their song 'Another World', accompanying himself on the piano. After singing a few verse or so on his own, the other boys came out and performed with him. It was
magical
. So yeah in case you couldn't tell already, I had the time of my life, singing and dancing the night away! It was such an amazing show and I'm not just saying that because I love The Vamps - my mum went with my 10-year-old sister and her little friend she even said how much she enjoyed it! I can't pick what my favourite performance was because each of them had something different about them that I loved!
Another exciting thing that happened this month was that on Monday I posted my application for my provisional driving license. I'm so excited to learn to drive! I turn 17 on 27th May which is quite late compared to a lot of people in my year in school and a few of them have already passed their test! I'm hoping to start my lessons in the summer after my exams are over. Aahhh!
I hope everyone had a good April! :)
- Caoimhe x